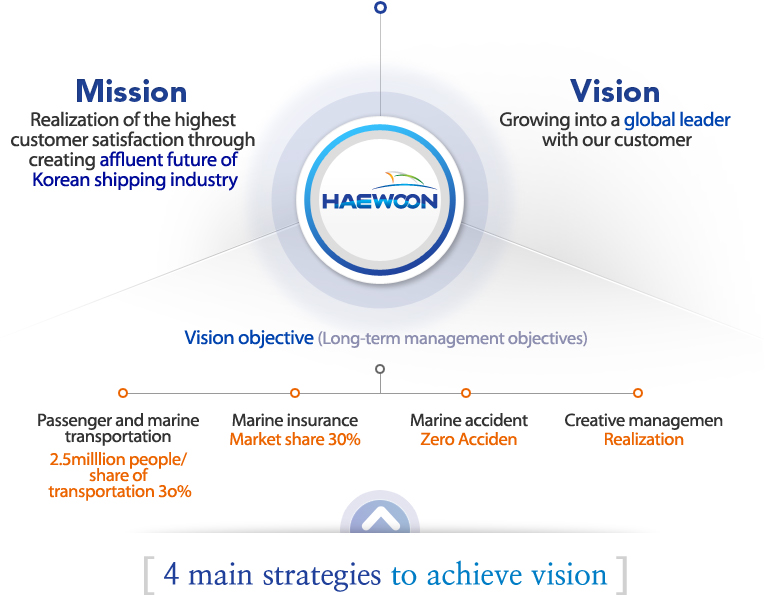 MISSION

Realization of the highest customer satisfaction through creating affluent future of Korean shipping industry

Vision

Growing into a global leader with our customer

Vision objective (Long-term management objectives)

Passenger and marine transportation - 2.5milllion people/ share of transportation 3o%
Marine insurance - Market share 30%
Marine accident - Zero Accident
Creative management - Realization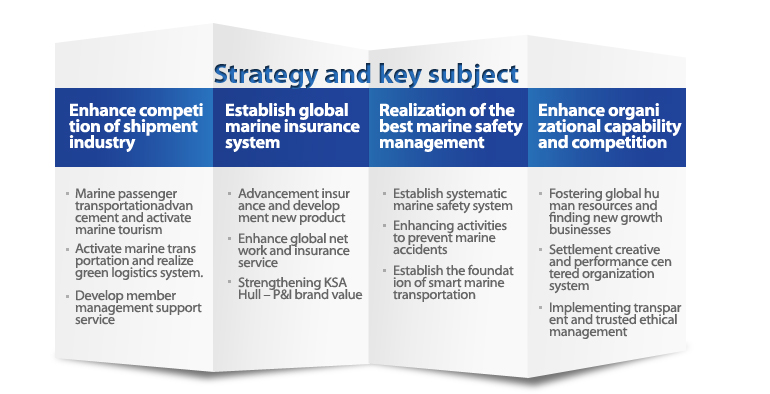 4 main strategies to achieve vision
Enhance competition of shipment industry

Marine passenger transportationadvancement and activate marine tourism
Activate marine transportation and realize green logistics system.
Develop member management support service

Establish global marine insurance system

Advancement insurance and development new product
Enhance global network and insurance service
Strengthening KSA Hull – P&I brand value

Realization of the best marine safety management

Establish systematic marine safety system
Enhancing activities to prevent marine accidents
Establish the foundation of smart marine transportation

Enhance organizational capability and competition

Fostering global human resources and finding new growth businesses
Settlement creative and performance centered organization system
Implementing transparent and trusted ethical management


30% of Korean goods are transported with 2% of Korean logistic costs to contribute to Korean economic development. Opening a new era of 25 million maritime passengers to activate maritime tourism, development shipment industry as more competitive transportation by creating safety and comfort passage through zeroing Marine accident.

Making best condition for all the customers in association to be happy is the reason for being and the highest value in the association.


Concentrate all the ability to enhance competitiveness of shipment industry, shipping world and the KSA to be growing as a future reliable companion.

To become a leader of shipping industry as the professional body at the global level Through developing advanced key industries, finding new key growth business and Open a new offshore business frontier